I just got back from NYC. I went to see my little sister. She just had her first baby. My nephew is an adorable, smily, charming, gorgeous, absolutely lush little thing. But, we all know how much work new babies are, especially precious first borns. Even the good ones don't sleep for long stretches and seem to need nursing all the time.
He just turned 3 months old while I was there!
Besides being a doting aunt, I did do a few sewing related things. First I sewed sheer curtains for my nephew's room. His room is dual aspect which is great, but the room wasn't sunny because it is at street level and the heavy drapes were down all the time for privacy. I didn't do the best job on the sheers, but I got it done, something my sister would simply never have had the time to do. The room is now both light and private. Had it been me, I would have simply ordered some sheers on line from JCPenny or WalMart or something and taken them in from the top if need be. My sister had already gone out and bought the fabric though, so we went with what she had. I think WalMart and JCPenny just don't spring to mind for people who lead sophisticated lives in Manhattan.
She had an entry level brother sewing machine. Other than being very lightweight, it was a nice little machine with a good straight stitch. A newbie sewer could do some proper dress making on a machine like that without having to make much of an initial investment.
Brother CS-6000i, I think she found it on sale for a little over $100.
The second sewing related activity was the garment district. Oooooooo
When my sister and nephew went to a Mom and Baby group one afternoon, I headed on down to the garment district, armed with
Meg's information about all the shops
. Without her, I would never have known that shops would be anywhere but the ground level. It was a wonderland. I wish that I had more than an afternoon to explore it, I could have easily spent a week. But the time I had in NYC was short and very precious, and I preferred to spend it with family.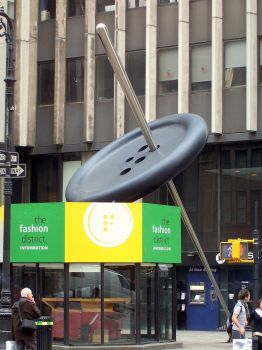 The fashion Centre also produces maps and guides, but I found Meg's well edited blog more user-friendly for an outsider.
I dropped into Global Leathers just out of curiosity, with no intention to buy anything. The men running the place were a little gruff, but I was very respectful and spoke Spanish with them which seemed to be the main language of their shop, and they softened up in the end. Well, I spent all my money there and that was the end of that!
I bought two very soft and drape-y lambskins.
I also bought 4 sheep-skins. When the fleece is straight like that they call it "Toscana" which is more popular in London at the moment than the short, white, curly kind. I didn't see any "Persian Lamb" which is when it is black with medium soft curls.
Next, I went to meet Meg for a quick coffee. She was able to take a break from work and say hello. She was as kind and as pretty in real-life as on her blog. She was the first person to put me on
her blogroll
which was very generous and gave me a big boost. Even though I had already gone a little nuts and was running out of time, she advised that I have a quick look at Mood and then Pacific trimmings.
It was great advice. I'm glad that I didn't miss these stores. Mood had an amazing selection of fabric with lots of hard to get colours. I was very tempted by some mustard coloured knits and some wool/cashmere pumpkin coloured coating. But I really had spent all my money, so I left empty handed! At Pacific Trimmings I bought some buttons and snaps and closures. I even saw Gretchen of
Gertie's New Blog for Better Sewing
fame looking at buttons. I said nothing and ignored her, this you see is the polite, British way of dealing with celebrities.
There is always enough pocket change left for a few buttons!
Wouldn't it be amazing to be able to go to NYC for a week with your whole year's fabric budget and just spend it all in this Disneyworld of fabric? Whizzing around on elevators in early 20th century buildings with elevator operators and old mail shoots?